Prereading Preparation
View the video below to make yourself aware of some of
the basics of George Orwell's background.

Click the icon to your right to access The Wikipedia overview of the Russian Revolution. Browse the content and explore several of the links to personalities and conditions that contributed to the revolution and to get a sense for the individuals and politics that serve as a foundation for the novel.
You may find the Prezi below helpful as well as it breaks down the revolution into bite size chunks.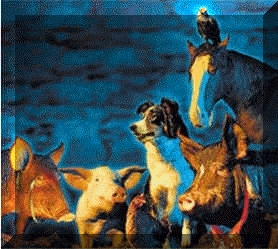 Click the icon to the left to introduce yourself to the main characters of Animal Farm. Read the relationship that each character has to the events and/or people of the Russian Revolution. You are going to partner-up with one of these characters as we read the novel and will not be permitted to back out of your decision, so make your selection carefully. View the Wikipedia page for Animal Farm for more related information.

Once you have made your decision, you will probably benefit from revisiting the links to the Russian Revolution. You should make yourself the expert on related the historical connections and concepts that are most closely linked to your character. You may also find the links below helpful in increasing your preparation for experiencing this novel.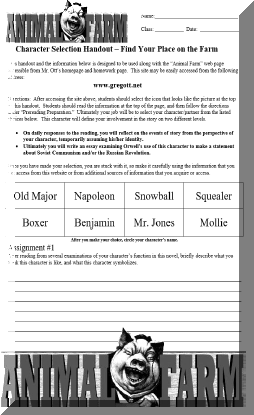 Assignment #1
You will need to come prepared to the next meeting of class with at least two questions relating to the background information you researched in preparation for the reading of the novel. You should also have your character handout completed with the name of the character that you will be focusing on and be ready to briefly share what is symbolized by your character in the novel.